Advances in FinTech & Applications to Investment Solutions for Individuals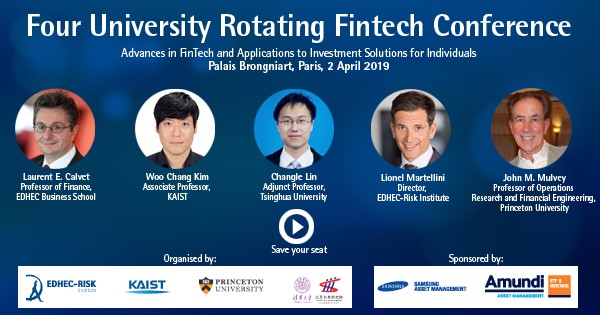 Four-University Rotating FinTech Conference
Presentation
In the context of the fourth revolution, the digital revolution, which is expected to have a dramatic impact on the investment industry, four prominent academic institutions renowned for the quality and relevance of their educational and research programmes in finance and technology – EDHEC-Risk Institute, KAIST, Princeton and Tsinghua Universities – have joined forces. Together, they have been hosting a series of rotational conferences on financial technologies to offer a forum to facilitate discussion among all interested parties (academics, practitioners and regulators) around the world.
After successful events organised in Princeton in 2017 and Seoul in 2018, EDHEC-Risk Institute is pleased to be hosting the "Advances in Financial Technologies and Applications to Investment Solutions for Individuals" conference to be held in Paris on 2 April 2019, at the Palais Brongniart, which was the historical French Stock Exchange.
Leading experts from the US, Asia and Europe will be featured at the conference, including, Lionel Martellini (Director of EDHEC-Risk Institute), Changle Lin (Adjunct Professor, Tsinghua University), John Mulvey (Professor and founding member of the Bendheim Centre for Finance at Princeton University), Laurent Calvet (Professor at EDHEC Business School) and Woo Chang Kim (Associate Professor at KAIST).
Further information on the conference can be found in the programme.
Keynote presentations
Lionel Martellini, Professor of Finance, EDHEC Business School, and Director, EDHEC-Risk Institute
Mass Production, Mass Customisation and Mass Distribution of Improved Retirement Solutions with Digital Goal-Based Investing Technology
Change lin, Professor and Dean of Institute for Interdisciplinary Information Sciences (IIIS), Tsinghua University
Modelling Investor Behaviour Based on Micro-level Big Data and AI Systems
John Mulvey, Professor of Operations Research and Financial Engineering, ORFE Department, Princeton University
Decentralised Enterprise Risk Management: Optimal Capital Allocation for Global Diverse FinTech Organisations
Laurent Calvet, Professor of Finance, EDHEC Business School
What Do Large Datasets Reveal about Household Financial Decisions?
Woo Chang Kim, Associate Professor, Industrial and Systems Engineering Department, and Head, KAIST Center for Wealth Management Technologies, Korea Advanced Institute of Science and Technology (KAIST)
Chong-Hyun Won, Vice President, Investment Policy Division, National Pension Research Institute (NPRI)
Min Jeong Kim, Deputy Research Fellow, Investment Policy Division, National Pension Research Institute (NPRI)
Joohwan Hong, Research Scientist at Veranos Technologies
A Case Study on Enhancing Income Security via Financial Technologies: Fully Personalised GBI-Based Life-Time Financial planning Service for Every Korean Citizen by National Pension Service
Workshops
Bruno Taillardat, Global Head of Smart Beta and Factor Investing, Amundi
Machine Learning in the Portfolio Management Workflow
Junghwan Lee, Head of ETF Solution Division, Samsung Asset Management
Providing Wealth Management Solutions through KODEX ETFs and GBI Technology
Roundtable: The Rise of Robo-Advisors: A Threat or an Opportunity for the Wealth Management Industry?
Moderator: Yuri Bender, Editor-in-Chief, Professional Wealth Management, Financial Times
Patrick Armstrong, Senior Officer, Financial Innovation, ESMA
Zakaria Laguel, Founder and General Manager, WeSave
Paolo Sironi, FinTech Thought Leader and Elective Member, IBM Industry Academy
Christophe Donay, Head of Asset Allocation and Macroeconomic Research, Pictet Wealth Management
Speakers and panelists biographies
Official sponsors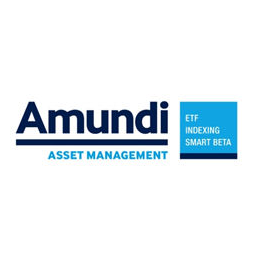 Endorsing Partners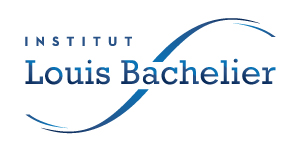 To register, please fill in the form
To register, please visit https://www.regonline.co.uk/EDHECRiskFintech2019 before March 26, 2019.
Registration fee: €150 (special rate at €105 for endorsing partner members, asset owners, EDHEC Alumni).
The registration fee includes a buffet lunch, refreshments and conference documentation. Delegates may be refused admission if payment is not received prior to the conference. Accommodation is not included.
Date
Tuesday 02/04/2019 - Tuesday 02/04/2019
8:30 am - 7:30 pm
Place
Palais Brongniart, Paris - France
Contact us
EDHEC-Risk Institute
or on: +33 493187887