Beyond Beta Europe Digital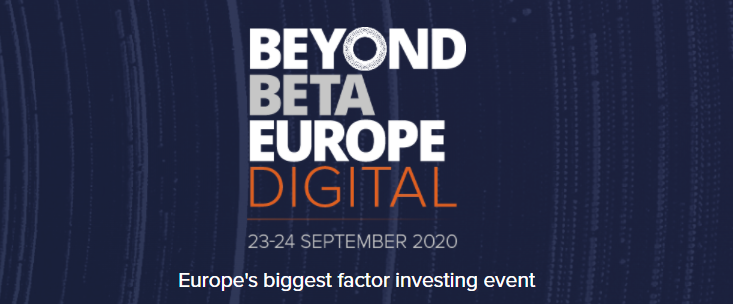 Europe's biggest factor investing event
Presentation
The recent coronavirus turmoil gave a fascinating insight into the way different factors behave during periods of market stress. Academically proven factors such as low volatility offered investors unique ways to either exploit alpha and reduce risk through rules-based, systematic strategies.
The heightened volatility has done little to affect investor appetite for smart beta which recently surpassed the $1trn assets mark. Studying how factors performed during this period will be a constant theme throughout the event while there will also be a deep dive into the product innovation taking place in the space.
ESG also came through coronavirus with flying colours as investors continued to pile into sustainable ETFs despite almost all other areas of the market seeing outflows. Why this was and whether there is anything stopping the green revolution will also be analysed.
Hosted by ETF Stream, this digital event will bring together some of the brightest minds from across the quantitative investing landscape to explore a whole range of areas within the smart beta, factor and ESG investing ecosystem.
The two-day event, taking place on 23-24 September, is exclusively aimed at investors from the institutional, wealth management and private banking spaces. Participation is subject to approval by ETF Stream.
On september 23, at 2:10pm CET, Riccardo Rebonato, Professor of Finance, EDHEC Business School, and Factor Investing Fixed Income Lead Expert, EDHEC-Risk Institute, will give a keynote speech on Smart Beta Fixed Income.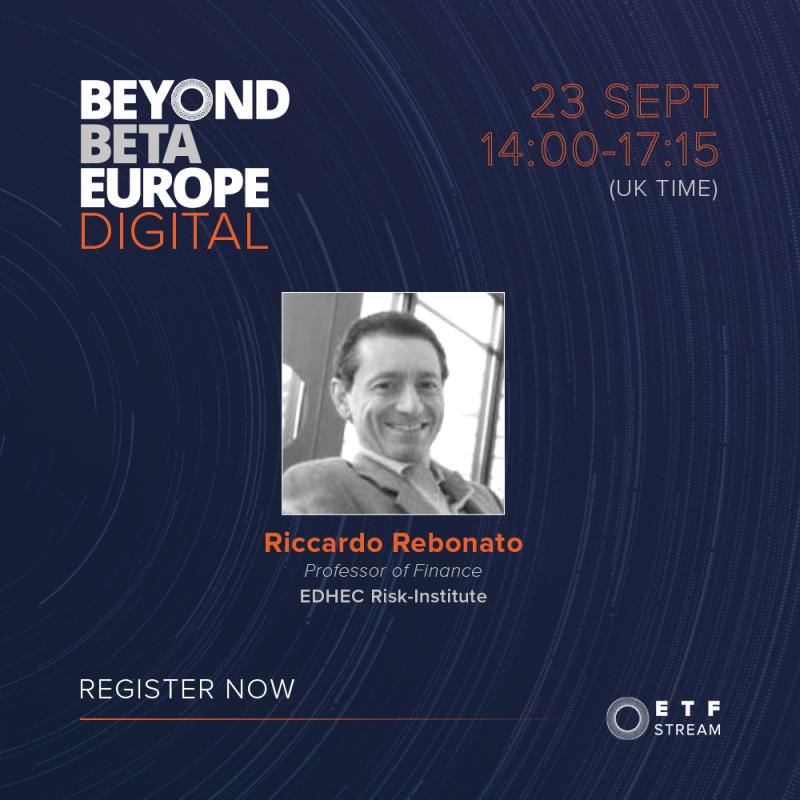 Recent academic research into smart beta fixed income has found timing factor exposures may be far more promising than equities. Combine this with the numerous surveys highlighting investors plan to increase their exposure to smart beta fixed income and the outlook looks brighter than even 18 months ago. However, with a dearth of products on the market, it seems we remain someway off smart beta hitting the mainstream in fixed income.
The session entitled: "Factor Investing in the Time of Quantitative Easing" will examine the following issues:
Factor investing from equities to other asset classes

Quantitative Easing and asset pricing

The universal compression of 'risk premia'

The appeal and the dangers of cross-sectional strategies

The shift in monetary stance of the Fed and what it implies for asset pricing and factor investing
Further information on the conference can be found on ETF Stream conference website.
Riccardo Rebonato, Lionel Martellini and Jean-Michel Maeso have recently published 3 publications on factor investing fixed income, drawn from the Amundi ETF, Indexing and Smart Beta Investment Strategies research chair at EDHEC-Risk Institute:
Factor Investing in Sovereign Bond Markets - Time-Series Perspective
Factor Investing in Sovereign Bond Markets: Defining and Exploiting Value in Bonds
Factor Investing in Fixed Income: Cross-Sectional and Time-Series Momentum in the US Sovereign Bond Market
Professor Rebonato is a specialist in interest rate risk modelling with applications to bond portfolio management and fixed-income derivatives pricing.
Academically, he is an editor of financial journals and was until 2016 a visiting lecturer at Oxford University and adjunct professor at Imperial College's Tanaka Business School. He sits on the board of directors of the International Swaps and Derivatives Association (ISDA) and the board of trustees for the Global Association of Risk Professionals (GARP). Previously, he was global head of market risk and global head of the Quantitative Research Team at the Royal Bank of Scotland (RBS), and sat on the Investment Committee of RBS Asset Management. He was Head of the Complex Derivatives Trading Desk and Research Group at Barclays Capital.
To register, please fill in the form
To save you seat, register now.
Date
Wednesday 23/09/2020 - Thursday 24/09/2020
8:30 am - 7:30 pm