Climate Change, Credit Risk and Covid-19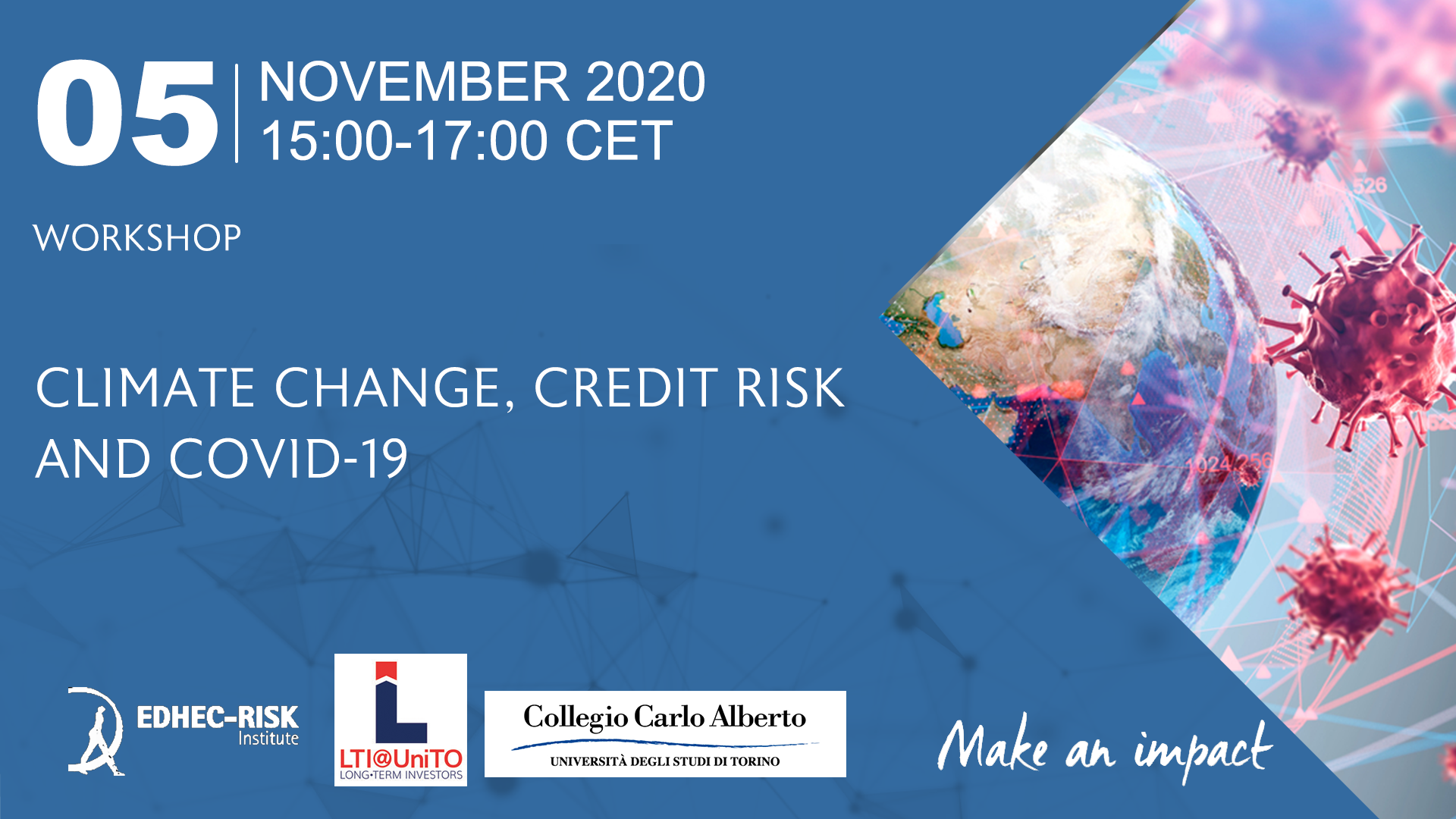 Organised by LTI@UniTO and EDHEC-Risk Institute
Presentation
The Covid-19 emergency seems to have increased attention towards long-term issues like sustainable investments and development goals, climate risks and green transition. European public authorities have linked their investment plans for the recovery from the pandemic emergency to the 'Green Deal'. "ESG" funds have increased their weight in the market, becoming the investment trend of the past few months.
In the credit market, there is an increasing awareness of the importance of complying to ESG criteria, which reflects in investment choices, valuation, credit ratings.
Hosted by Long-Term Investors@UniTO, this workshop, through a panel of market participants and experts, aims at uncovering the main challenges of integrating climate risk-related considerations in the credit risk assessment and, consequently, in the investment process of investors.
On 5 November 2020, Gianfranco Gianfrate, Professor of Finance, EDHEC Business School and Lead Expert on Climate Change and Sustainable Finance, EDHEC-Risk Institute will introduce the Climate Change, Credit Risk and Covid-19 Workshop, together with Elisa Luciano, Professor of Finance, Università di Torino and Director of LTI@Unito.
Riccardo Rebonato, Professor of Finance, EDHEC Business School and Lead Expert on Factor Investing Fixed Income, EDHEC-Risk Institute will be speaking on "Climate-Aware Asset Pricing" and will examine the following issues:
Are Integrated Assessment Models useful for asset pricing? What do they imply for fixed income?

Relative and absolute valuation of assets: picking winner and losers versus projecting economic growth.

"Doing well while doing good" – Does it work? Does it make sense?
Enrico Bernardini, Risk Management Department, Banca d'Italia will be presenting "ESG, E and climate change: mind the gap! Data and fixed income portfolio construction" and will examine the following issues:
Data materiality and suitability for sustainable investing

Managing fixed income portfolios with sustainability factors

Covid and effects on sustainable bond market
Agenda
Gianfranco Gianfrate, EDHEC Risk Institute & LTI@UniTO &, Elisa Luciano UniTO & LTI@UniTO.
15:05 - 15:15 Introduction
Francesco Profumo, President, Compagnia di San Paolo
15:15 - 15:35 ESG, E and climate change: mind the gap! Data and fixed income portfolio construction
​ Enrico Bernardini, Risk Management Department, Banca d'Italia
15:35 - 15:55 What Does Climate-Aware Investing Mean for Fixed-Income?
Riccardo Rebonato, EDHEC-Risk Institute
15:55 - 16:15 Climate Change: Energy Transition Risks and Opportunities for European Public Companies' Creditworthiness
Giorgio Baldassarri, S&P Global Market Intelligence
SPEAKERS

Giorgio Baldassarri is Global Head of the Analytic Development Group (ADG). His team is responsible for the analytical development, maintenance and on-going validation of all credit risk models and products across Risk Services, which are used by financial institutions and corporate companies to measure and manage credit risk, including within regulatory frameworks such as Basel II/III or Solvency II.Prior to joining S&P Global Market Intelligence in 2011, Giorgio worked at Barclays for three years as Associate Director in Group Risk (Operational Risk and Credit Risk).
Giorgio holds a PhD in Quantum Mechanics and Semiconductor Physics from the University of Rome "La Sapienza".

Enrico Bernardini currently works at the Risk Management Department, Banca d'Italia. His most recent publication is 'The impact of carbon risk on stock returns: Evidence from the European electric utilities'. Most recent interests are in sustainable investments, ESG integration into portfolio allocation and factor modeling for equity returs.
Gianfranco Gianfrate is Associate Professor of Finance at EDHEC Business School. He writes and researches on topics related to innovation financing, corporate valuation, and climate change finance. Prior to joining EDHEC Business School, he held teaching and research positions at Erasmus University (Netherlands), Harvard University (USA), and Bocconi University (Italy). Gianfranco also has extensive experience in the financial industry, having worked, among others, for Deloitte Corporate Finance (Italy), Hermes Investment Management (UK), and iStarter (UK). Gianfranco holds a BA and a PhD in Business Administration from Bocconi University and a Master in Public Administration from Harvard University.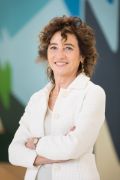 Elisa Luciano is Professor of Finance at the University of Torino (Italy) since 1994. She holds a BA in Economics and a PhD in Applied Mathematics. She is currently the Scientific Director of LTI@UniTO, a think tank on long-term investments, a Fellow of NETSPAR and Senior Fellow of Collegio Carlo Alberto (Torino). Her previous teaching experience includes Bocconi University, Ecole Politechnique-Cachan, Ecole Politechnique-Sophia Antipolis. She held visiting positions at the Wharton School of the University of Pennsylvania, Cornell University, INSEAD, the University of Zurich.
She has published extensively in Academic journals, including the Review of Financial Studies, and the Journal of Finance. She has published also in Risk, the Risk books and the Journal of Risk Finance, from which she received the Best Paper Award in 2007. She has written several monographies, including a books for MIT Press, and is currently working for Springer. She acted as a consultant for major banks, insurance companies, financial institutions and law firms.
Specialties: Derivatives, Asset Pricing, Risk Measurement and Portfolio Selection with illiquidity, Pricing and Hedging Insurance Contracts.

Francesco Profumo, President, Compagnia di San Paolo
Profumo started his professional career in research and development at Ansaldo in Genova in 1978 and served there until 1984. In 1985, he moved to Torino as a researcher and associate professor at the local Politecnico. In 2003, he was named dean of the 1st engineering faculty of the Politecnico, and in 2005, he became rector of the university. On 13 August 2011, he succeeded Luciano Maiani as the president of the National Research Council (CNR).[3] On 16 November 2011, Prime Minister Mario Monti appointed him Minister of Education. In 2016 he was appointed President of Compagnia di San Paolo. As of September 2020, he is a member of the Italian Aspen Institute.
He studied electronic engineering at the Polytechnic University of Turin and graduated in 1977.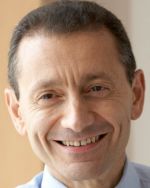 Riccardo Rebonato is professor of finance at EDHEC Business School and holds the PIMCO Research Chair for the EDHEC Risk Institute.
Previously, he held academic positions at Imperial College London and Oxford University. In addition, Professor Rebonato served as global head of fixed income and FX analytics at PIMCO and head of research, risk management, and derivatives trading at several major international banks.
He has served on the board of directors for ISDA and GARP and is on the board of the Nine Dots Prize. Professor Rebonato is the author of several books and articles on finance and risk management, including Bond Pricing and Yield Curve Modeling: A Structural Approach.
Date
Thursday 05/11/2020 - Thursday 05/11/2020
15:00pm - 17:00pm CET