Climate Change & Retirement Investing Conference
PRESENTATION
The JOIM Conference Series (founded in 2006) extends the mandate of the Journal Of Investment Management (JOIM) publication of bridging the theory and practice of investment management. Whereas the JOIM publication is a rigorous peer reviewed publication, the JOIM Conference Series showcases very high quality presentations and a platform for interactive discussions of current topics in the investment management arena. Prevalent throughout both activities is the highest quality material suitable for the academic, practitioner and student.
The conference will be exploring the practical research associated with two themes, Climate Change and Retirement Investing. The coverage will include actionable insights of these important topics by leading experts from these specialty areas with physical (policy permitting) and virtual attendance available.
This event is co-sponsored with Santa Clara University, BlackRock, Franklin Templeton and Invesco.
On May 24, Lionel Martellini, Director, EDHEC-Risk Institute, and Professor of Finance, EDHEC Business School, will give a keynote presentation entitled "Introducing the Retirement Bond – The New Risk-Free Asset in Decumulation Investing".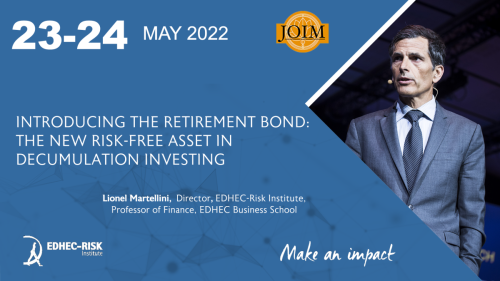 He will explore the following topics:
Academic perspectives on decumulation investing – The annuity and duration puzzles

Introducing the retirement bond – Design and replication challenges in decumulation

Benefits of retirement bonds in retirement planning – Maximally moderate withdrawal strategies

Benefits of retirement bonds in retirement investing – Efficient goal-based decumulation strategies
Discussant: Meir Statman, Professor of Finance, Leavey School Business, Santa Clara University
See the Programme and Register
Other featured presenters:
Monday, May 23rd – Climate Change Investing
Hersh Shefrin, Professor of Finance, Santa Clara University
"Fear, Hope, and Bias in the Judgments and Decisions About Climate Change"
Jeff Bohn, Chief Strategy Officer (CSO), OneConcern
"Resilience-adjusted valuation for Commercial Properties: Quantifying Resilience to Climate-driven Catastrophe Event Risk"
Discussant: Sharon Hill, Head of Alpha Equity - Global & Income, Vanguard
Guido Giese, Global Head ESG & Climate Solutions Research, MSCI
Strategic Approaches to Net-zero Investing and Their Real-world Impact
Discussant: Jing Zhang, Climate change expert
Joshua Kazdin, Director, BlackRock
"Extreme Weather and Retirement Savings"
Discussant: Galina Hale, Professor of Economics, University of Santa Cruz
Tuesday, May 24th – Retirement Investing
Jonathan A. Parker

, Robert C. Merton (1970) Professor of Finance and Professor of Finance,

MIT Sloan School of Management
"Household Portfolios and Retirement Saving over the Life Cycle"
Discussant: Eva Xu, Head Of Portfolio Management Team for SIP, and Director, and Head of Asset Allocation, Charles Schwab Cruz
"Goals, Death, and Taxes: New Frontiers in Retirement Optimization"
Nicholas Savoulides,

Head of Global Solutions Research,

Invesco
Multi-Period Portfolio Selection: A Practical Simulation-Based Framework
REGISTRATION:
Risk Managers, Portfolio Managers, Pension Managers, Plan Sponsors, Endowments, Senior Executives of Financial Firms and Academics would all benefit from attending.
EDHEC-Risk readers benefit from special rate for the virtual conference and 20% off the print/online JOIM publication. To register, please go to the dedicated registration website.