The Economist's Sustainability Week: Countdown to COP26
Presentation
The Economist launched the Sustainability series of events in 2016 to foster conversation between policymakers, business, scientists and investors around finding solutions to the problems of climate change, and wider sustainability issues.
Of growing importance is the investment and finance part of the programme, both in terms of looking for opportunity for investors and scrutinising claims of ESG investors.
The Economist is seeing growing momentum from business to showcase the steps they are taking to tackle emissions and other negative impacts of their activities, and to share experiences, best practice and scalable, actionable solutions.
As COP26 approaches can governments, corporations and private businesses change how society works in order to meet the Paris agreement targets on time?
Organised from October 4th to 7th 2021 by The Economist, the Sustainability Week: Countdown to COP26, hears from global corporations, policymakers, and investors who are committed to reversing climate change through innovative thinking. Methods to lower emissions, improve sustainability and the transition to renewables that actively protect the environment will be discussed in depth. Packed with insightful panel discussions and case studies, innovative investment opportunities and hackathons, the event's deep analysis from senior-level speakers creates opportunities that can influence the emergence of a sustainable economy.
On October 4, at 2:35pm BST, Gianfranco Gianfrate, Professor of Finance, EDHEC Business School, Climate Change & Sustainable Finance Lead Expert, EDHEC-Risk Institute, will participate in a plenary session, together with:
Gabriel Makhlouf, Governor, Central Bank of Ireland

Alessandro d'Eri,

Senior Policy Officer,

ESMA

Crystal Geng,

Head of ESG,

Ping An Group
​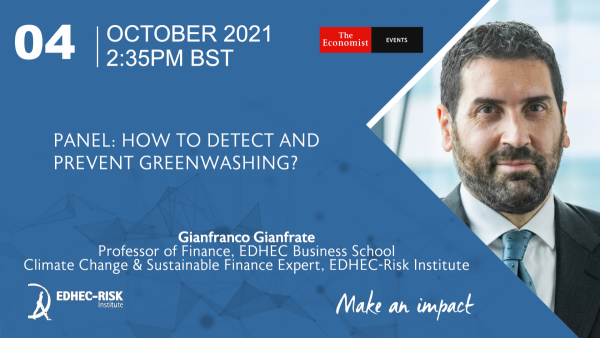 The session entitled: "HOW TO DETECT AND PREVENT GREENWASHING" will explore the following topics:
In the decade for action, what can policymakers do to prevent greenwashing and speed up the transition to net zero?

Company transparency and adequate reporting is critical. What metrics should ESG measurement be built around to drive positive outcomes at both a financial and social level?

What questions do investors need to ask to be confident of the ESG credentials of their investments?
Further information on the conference can be found on The Economist Website.