ETF Stream is coming to Zurich for the first time to bring its buy-side only ETF events to an audience of Swiss professional investors.
ETF Buyer: Zurich will offer professional investors insights into the trends that are set to shape markets over the next 6-12 months as well as deep analysis into the role of ETFs within portfolios.
Topics will include, among others:
Portfolio positioning for uncertain markets

Bonds are back: Asset allocation and portfolio construction ideas

ETF implementation in volatile markets

The role of crypto ETPs in multi-asset portfolios

SFDR and its impact on ETFs

And more
On March 29, at 13:30, Frédéric Ducoulombier, Director of the EDHEC-Risk Climate Impact Institute, will give a keynote presentation entitled "Regulatory responses to greenwashing".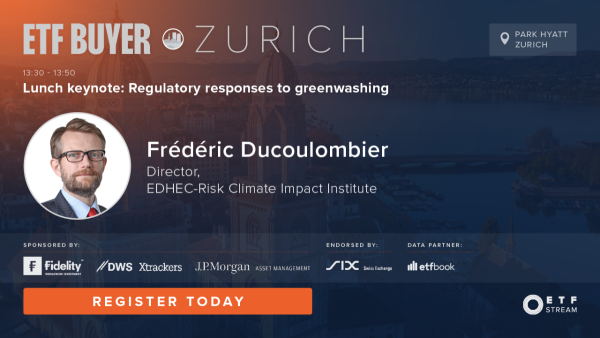 Tackling 'greenwashing' in the investment industry tops the 2023 list of priorities for securities and markets regulators.
In his keynote address, Frédéric Ducoulombier will:
reflect on

how greenwashing concerns have become central for the sustainable investment industry

discuss dimensions of the phenomenon

look at the merits and limits of the various regulatory approaches that have been put forward to mitigate it
Other speakers of the conference include:
Gilles Boitel, Team Lead Coverage Passive Sales, DWS
Ivan Durdevic, Head of ETF Distribution for Switzerland, Germany and Austria, JP Morgan Asset Management
Jim Masturzo, Partner, CIO, Multi-Asset Strategies, Research Affiliates
Ilia Chelomianski, Portfolio Manager, Systematic Fixed Income, Fidelity International
Ruairidh Hill, Investment Specialist International Equity Group, JP Morgan Asset Management
Pawel Janus, Co-founder and Head of Analytics, ETFbook
André Buck, Global Head Sales & Relationship Management, SIX Swiss
Frédéric Ducoulombier published recently a column in ETF Stream "EU's Ecolabel needs a rethink", following the publication of the European Securities and Markets Authority (ESMA) report titled "Investor protection - EU Ecolabel: Calibrating green criteria for retail funds".
This event is exclusive to Swiss professional investors only. Approval is subject to ETF Stream. Register here: https://www.etfstream.com/events/etf-buyer-zurich-2023/