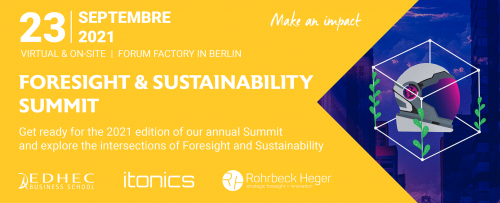 Presentation
Everyone is talking about it - but what is actually behind the big buzzword "Sustainability"? January 2020 kicked off what environmentalists are referring to as the "Decade of Action". In concrete terms, this means: Just ten more years to meet the goals set out in the UN's 2030 Agenda for Sustainable Development to limit global warming to 1.5 degrees Celsius above pre-industrial levels by 2030.
Against the backdrop of this development, prioritizing sustainable action is not only of ever-increasing importance, but at the same time creates new opportunities in the development of new markets and technologies.
For this reason, at this year's Foresight & Sustainability Summit we will not only address the current status quo, but at the same time take a look into the (possible) futures and talk about emerging trends and technologies that will significantly shape activities and the path to a greener future.
Hosted by ITONICS, RohrbeckHeger and the EDHEC Chair for Foresight, Innovation and Transformation, the Summit will be centered around emerging trends and technologies, as well as new action ethics that we will inevitably have to confront in the context of shaping a more sustainable future. Learn from industry best practices, get inspired by thought leaders, and connect & exchange ideas with industry peers.
On September 23, at 3:45pm CEST, Gianfranco Gianfrate, Professor of Finance, EDHEC Business School, Climate Change & Sustainable Finance Lead Expert, EDHEC-Risk Institute, will participate in the plenary session, together with:
Panelist: Stéphanie Hubold, Head of ESG, Altor Equity Partners
Chair: René Rohrbeck, Professor of Strategy and director of the chair on "Foresight, Innovation and Transformation", EDHEC Business School
​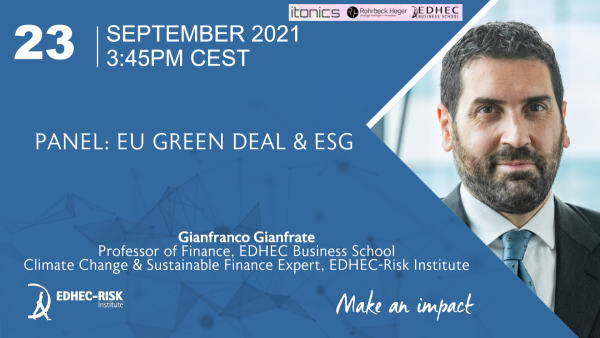 The session entitled: "EU Green Deal & ESG" will explore the following topics:
The EU is opting to drive sustainability through a 'silent revolution' in which the European Central Banks play a key role. In the quest to save the climate and biodiversity, the EU has introduced a comprehensive 'Green Deal'. But what does it contain?

"What is the ESG taxonomy?"

"How will the EU commission leverage the European Central Bank to drive environmental behavior and force businesses to go beyond greenwashing?"
Further information on the conference can be found on the Itonics Website.