European Financial Management Association (EFMA) 2022 Annual Meetings
Presentation
The 2022 Annual Meeting of the European Financial Management Association will be hosted by Campus Bio-medico University in Rome from 29 June – 2 July, 2022.
A very large number of high quality papers were received, making the refereeing process a very challenging task. All submitted papers were blindly reviewed by the outstanding members of the Program Committee from top academic institutions including: New York University, Harvard Business School, MIT, Stanford University, Wharton School, London Business School, Columbia University, INSEAD, Hong Kong University of Science and Technology, Bocconi University, HEC Paris, University of Oxford, Yale School of Management, Cornell University and UCLA.
The highly competitive refereeing process led to a selection of 253 papers out of an extremely large number of paper submissions. The program consists of 85 parallel sessions and 3 special sessions, with very renowned academic specialists 5 in each topic.
Professor Toni M. Whited, full professor at University of Michigan and JFE Editor-in-chief, will be the Keynote Speaker of the 2022 Annual Meeting on "Integrating Reduced Form and Structural Work".
On June 29 at 10:00am CET, Emanuele Chini, Ph.D. in Finance candidate, EDHEC Business School and teaching assistant EDHEC Risk Climate Impact Institute (ERCII), will participate in the Asset Pricing and Capital Markets panel session, together with:
Instructors:
Antonio Mele, Università della Svizzera Italiana
Liang Peng, Penn State University
John Doukas, EFM and Old Dominion University
Juan Sotes-Paladino, Universidad de los Andes
Valerio Poti, University College Dublin
Francois Longin, ESSEC Business School,
Participants:
Paraic McGee, Waterford Institute of Technology
Adina Yelekenova, Lancaster University Management School
Tobias Hemauer, University of St. Gallen
Somayyeh Lotfi, University of Cyprus
Guy Lakan, Hebrew University In Jerusalem
​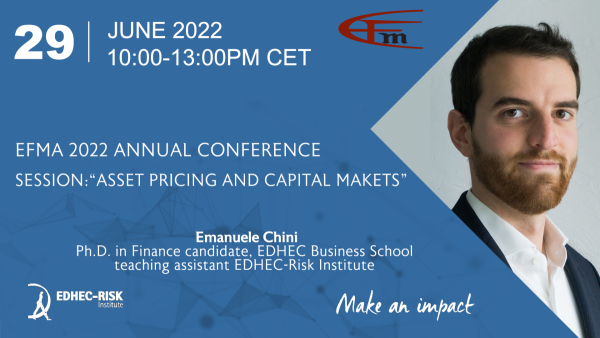 Emanuele will present his recent paper "Time-varying Environmental Betas and Latent Green Factors" and will discuss the following issues:
Is US stock market pricing exposures to climate risks? In this paper he tries to answer this question through the lenses of a latent factor model by extending the instrumented principal component analysis (IPCA) methodology of Kelly et al. (JFE 2019)

He is able to extract latent factors from a panel of returns and a set of observable firm-level characteristics and to interpret our factors as purely "green" or "financial" factors.

He finds a green factor without defining (and constructing) it ex-ante, as typically done in the climate finance literature. His factor is important to explain equity returns of companies in the Energy and Utilities sectors.
Further information on the conference can be found on the European Financial Management Association 2022 Annual Meetings website.
About EFMA:
European Financial Management Association (EFMA) was founded in 1991 by Prof. John Doukas to encourage research and disseminate knowledge about financial decision making in all areas of finance as it relates to European corporations, financial institutions and capital markets. To achieve its objective, the European Financial Management Association provides its membership with a refereed journal, the European Financial Management, and holds Annual Meetings at which members exchange ideas, present and discuss their research.