The looming pension crisis and Flexicure retirement solutions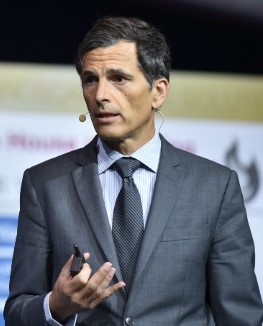 AGENDA
Hosted by EDHEC Alumni, this webinar provides a unique opportunity to engage with EDHEC-Risk's director on retirement investing, a subject which is topical in the investment management industry.
During this digital event, Lionel Martellini, Professor of Finance at EDHEC Business School will discuss "How Financial Engineering can Help Meet the Challenges Posed by the Pension Crisis" and will examine the following issues:
The looming pension crisis

An overview of currently available retirement products

Flexicure retirement solutions
You can access EDHEC-Risk Institute research article "Flexicure" Retirement Solutions: A Part of the Answer to the Pensions Crisis?", also published in the July 2019 issue of the Journal of Portfolio Management. Individuals should not have to choose between security and flexibility when approaching retirement investment decisions. In this article, authors Lionel Martellini, Vincent Milhau and John Mulvey propose to apply the principle of goal-based investing to the design of a new generation of flexicure retirement investment strategies, which aim at offering the best of both worlds between insurance products and asset management products.
Individuals preparing for retirement are currently left with an unsatisfactory choice between security with no flexibility with annuity products, and flexibility without security with investment products such as balance funds or target date funds. To get out of this impasse, the authors introduce a range of flexicure retirement goal-based investing strategies that offer both security and flexibility with respect to the objective of generating replacement income in decumulation. Recent advances in financial engineering and digital technologies make it possible to apply goal-based investing principles to a much broader population of investors than the few traditional clients who can afford cutomized mandates of private banking services, which suggests that these flexicure retirement solutions can be use as part of the solution to the global pension crisis.
Insightful results relayed by the Financial Times, Actuarial Post.
EDHEC -Risk just released a new book "Advances in Retirement Investing", available on Cambridge University Press as part of Elements in Quantitative Finance. To supplement replacement income provided by Social Security and employer­sponsored pension plans, individuals need to rely on their own saving and investment choices during accumulation. Once retired, they must also decide at which rate to spend their savings, with the usual dilemma between present and future consumption in mind. This Element explains how financial engineering and risk management techniques can help them in these complex decisions.
Lionel Martellini is a Professor of Finance at EDHEC Business School and the Director of EDHEC-Risk Institute. He is a former member of the faculty at the Marshall School of Business, University of Southern California, and has also taught at U.C. Berkeley and at Princeton University, where he has been a visiting fellow at the Operations Research and Financial Engineering department.
Professor Martellini holds Master's degrees in management (ESCP Business School), economics and statistics (ENSAE), pure mathematics (Paris 6 University), probability and stochastic processes (Paris 6 University), as well as a PhD in finance (Haas School of Business, University of California at Berkeley). Outside of his activities in finance, he recently completed a PhD in Relativistic Astrophysics (University Côte d'Azur) and has become a member of the LIGO/Virgo international collaboration for the observation of gravitational waves.
Professor Martellini is a member of the editorial board of The Journal of Portfolio Management, The Journal of Alternative Investments, and The Journal of Retirement. He leads research and education programs on a broad range of topics related to investment solutions for individual and institutional investors, risk and asset allocation decisions, factor investing in equity and fixed-income markets, climate finance and sustainable investing, risk management and derivatives valuation. His work has been published in leading academic and practitioner journals and has been featured in major European and global dailies such as The Economist, The Financial Times and The Wall Street Journal. He has co-authored reference textbooks on topics related to Alternative Investment Strategies, Fixed-Income Securities, Goal-Based Investing, Retirement Investing and Investment Solutions. He has also launched a digital specialization program on Data Science for Investment Management available on Coursera platform and is currently preparing a new specialization program on Climate Finance and Sustainable Investing.
Professor Martellini has served as a consultant for large institutional investors (CalPERS and Ontario Teachers' Pension Plan, among others) as well as investments banks and asset management firms on a number of questions related to risk and asset allocation decisions, and is a regular speaker in seminars and conferences on these subjects.
Date
Thursday 24/09/2020 - Thursday 24/09/2020
9:00 am - 10:30 am CET