IPE Real Assets & Infrastructure Global Investor Conference & Awards 2023

Plotting pathways: Energy transition, digitalisation, transport and natural capital are just some of the topics up for discussion at this year's IPE Real Assets & Infrastructure Global Investor Conference & Awards. With a new, additional half day of content focused on natural capital including forestry, agriculture and biodiversity, this year's conference and awards will be the largest yet, attracting hundreds of asset owners including pensions, sovereign wealth funds, endowments and others, along with asset managers, consultants and others who assist in making critical investment decisions.
On September 14, Rob Arnold, Sustainability Research Director at EDHEC-Risk Climate, will be participating in the panel discussion on "Hydrogen". During his presentation, Rob will explore the infrastructure challenges related to hydrogen production. He will discuss repurposing or transitioning national gas networks, as well as reusing offshore oil and gas infrastructure for the production of 'blue' hydrogen through carbon capture and storage. Additionally, he will address the interconnected value of owning gas grids, upstream oil and gas assets, and hydrogen production.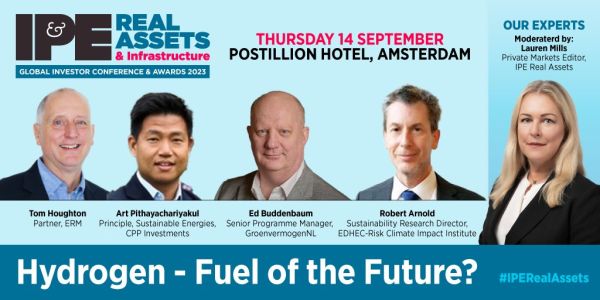 Rob Arnold will delve into the following topics:
Opportunities and risks for investing in green (renewable) and blue (carbon capture / natural gas) low carbon hydrogen production.

Issues surrounding hydrogen distribution and storage (value implications for existing gas grids being upgraded to transport hydrogen and new distribution infrastructure).

Consumer-based perceptual risk (gaining trust with the public for deploying hydrogen infra, based on based on current projects in the UK and the Netherlands).
Other panelists on the panel include Tom Houghton, Partner at ERM, Ed Buddenbaum is Program Manager at GroenvermogenNL, and Art Pithayachariyakul, Principal, Sustainable Energies at CPP Investments. The session will be moderated by Lauren Mills, Private Markets Editor at IPE Real Assets.
Further information on the conference can be found on the IPE Real Assets website.
Rob Arnold is Sustainability Research Director at EDHEC-Risk Climate Impact Institute where he is leading in the creation of a new body of knowledge on climate alignment and resilience in different sectors with an initial focus on infrastructure. He is an energy and environment specialist with extensive experience in industry, business, national governments, and international organisations. Rob holds a PhD in Energy and Environment from Imperial College London, an MSc in Environmental Technology from Imperial College London, a BSc (Hons.) in Chemistry from the University of Manchester and is a Member of the Royal Society of Chemistry. He previously worked as an engineering, science and policy advisor to the UK Government for two decades, for departments including the Department of Business, Energy and Industrial Strategy, the Department of Energy and Climate Change, and the Department of Environment, Food and Rural Affairs. Recent projects have included leading cross-disciplinary teams in technical analysis, business strategy, and sustainability assessment of new technology and measures to decarbonise energy, infrastructure, industry, transport and land use, co-chairing a multinational team of experts to compile the research programme for a strand of the EU's Strategic Energy Technology Plan and establishing the Industrial Energy Transformation Fund, to identify and fund projects that build value for industry through sustainable decarbonisation.