OECD Workshop on Climate Transition Scenarios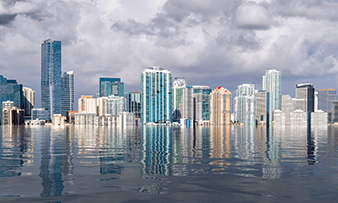 The OECD Workshop on Climate Transition Scenarios: integrating models into risk assessment under uncertainty and the cost of delayed action will take place virtually on 6 July 2022 and will examine in more details key issues for financial supervisors, market participants and policy makers to use climate transition scenarios to assess climate risks under uncertainty. The workshop will notably discuss modelling issues and assumptions associated with assessing the cost of a delayed transition, included linked to stranded assets. It will also discuss key issues to integrate climate transition scenarios and modelling into financial risk assessment.
The workshop held by the OECD Committee on Financial Markets (CMF) will gather climate modellers and economists, climate policy makers as well as representatives from central banks, financial supervisors, banks, asset managers, pension funds, insurers, data providers, civil society and academia.
Irene Monasterolo, Professor of Climate Finance, EDHEC-Risk Institute and EDHEC Business School, has been invited to participate in the 3rd session entitled "The way forward for climate risk management in the financial sector under uncertainty", together with:
Moderator:
Robert Patalano, Head of Financial Markets Division, OECD Directorate for Financial and Enterprise Affairs
Keynote:
Lars Peter Hansen, Director, Macro Finance Research Program, Beck Friedman Institute (BFI), University of Chicago, and David Rockefeller Distinguished Service Professor in Economics and Statistics, Booth School of Business, University of Chicago
Panellists:
Laurent Clerc, Director for Research and Risk Analysis, ACPR
Irene Monasterolo, Professor of Climate Finance, EDHEC Business School
Anuschka Hilke, Programme Director, Climate Finance and Investment, I4CE
Olli Castrén, Head of Economics and Impact Assessment, European Banking Authority (EBA)
Timo Löyttyniemi, CEO, State Pension Fund of Finland (TBC)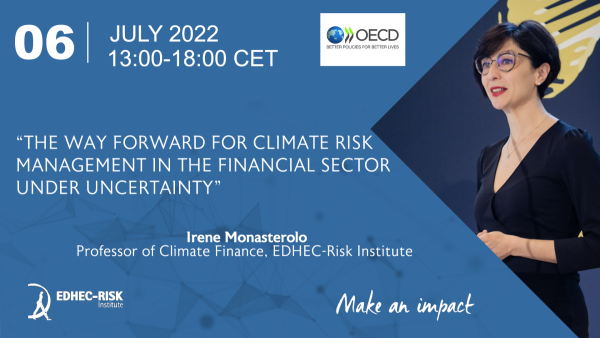 This session will explore options for the financial sector to better manage climate risks under uncertainty, including through climate stress testing and climate scenario analysis. Additionally, the session will examine better integration of climate risks in market participants' risk management practices and financial supervisors' prudential assessments.
The Organisation for Economic Co-operation and Development (OECD) is an international organisation that works to build better policies for better lives. Our goal is to shape policies that foster prosperity, equality, opportunity and well-being for all. We draw on 60 years of experience and insights to better prepare the world of tomorrow.
Further information on the conference can be found on the OECD website.