Policy panel: "Climate risks in financial markets"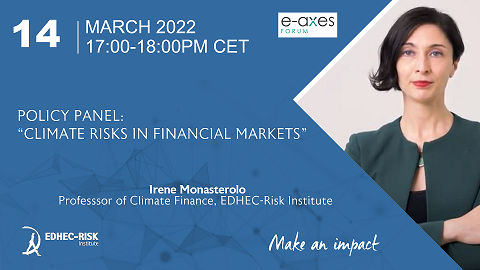 The following policy panel will conclude a trilogy on climate risk pricing by financial markets. They started with Stefano Giglio (Yale University) who presented his paper "Climate Finance". For the second webinar Michela Scatigna and Omar Zulaica (BIS) presented their research "Achievements and Challenges in ESG Markets".
Panelists will discuss to what extent markets are pricing climate risks, how these estimates have evolved and what their implications are for financial policy-makers. Are risks currently underpriced and warrant stricter prudential policies to safeguard financial stability? How can financial regulators ensure that financial markets and financial institutions price climate risks in?
Irene Monasterolo, Professor of Climate Finance, EDHEC-Risk Institute and EDHEC Business School, has been invited by E-axes Forum, to participate in a panel entitled "Policy panel: "Climate risks in financial markets", together with:
Moderator:
Pierre Monnin, Senior Fellow, Council on Economic Policies (CEP)
Panelists:
Sujit Kapadia, Head of the Market-Based Finance division, European Central Bank
William Oman

, Economist,

IMF's Monetary and Capital Markets Department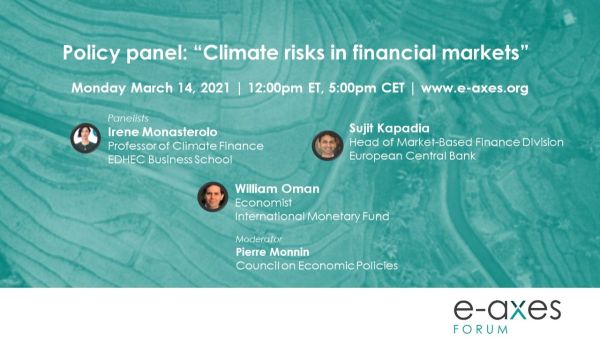 ACCESS THE REPLAY OF THE PANEL
Irene will discuss open challenges and steps ahead in climate financial risk assessment, and applicability of research results for financial policy and will explore the following topics:
Lessons from recent research and practitioners' exercises in climate finance

Open methodological challenges to assess climate-related financial risks: role of tail risk in scenarios, pricing models and financial risk metrics (e.g. Expected Shortfall)

Implications for systemic financial risk and prudential policy
The E-axes Forum is an independent nonprofit, nonpartisan research organization on macroeconomic policies and sustainability. The Forum is dedicated to aggregating knowledge from around the globe with the aim to catalyze the engagement of economists and decision makers who are working on policies towards achieving a sustainable economy.
Further information on the conference can be found on the E-Axes Forum website.
Sujit Kapadia is Head of the Market-Based Finance division at the European Central Bank. Before that, he was Head of Research at the Bank of England, where he developed the Bank's 'One Bank Research Agenda'. His own research encompasses macroprudential policy, monetary policy, banking regulation, stress testing, financial networks and contagion, and he has published extensively on all of these topics. Sujit earned a PhD in economics from the University of Oxford. He had spells at the Reserve Bank of India in 2013 and 2014, reviewing aspects of their monetary policy framework and assessing their financial literacy initiatives.
Irene Monasterolo is Professor of Climate Finance at EDHEC Business School and EDHEC-Risk Institute in Nice (FR) and senior research fellow at the Vienna University of Economics and Business (Austria) and Boston University (USA). Irene holds a PhD in Agri-food economics and statistics from the University of Bologna (IT) and two post doctoral experiences on climate finance. Irene's research is contributing to understand the role of finance in the achievement of the climate targets in both high income and developing countries, and the assessment of climate-financial risks and opportunities in the low-carbon transition. She has co-developed the climate stress-test of the financial system, which embeds climate scenarios in asset pricing and investors' risk assessment, and was published in Nature Climate Change and Science. The Climate Stress test methodology included in the CLIMAFIN tool has been applied by several (public and private) financial institutions to assess investors' exposure to climate physical and transition risks.
William Oman is an economist in the IMF's Monetary and Capital Markets Department. Previously, he was in the IMF Europe Office in Paris, working on the euro area and France. His research focuses on macrofinancial linkages, international macroeconomics, monetary and macroprudential policy, and climate change. He holds a PhD in economics from Université Paris 1 Panthéon-Sorbonne and an MPA from the London School of Economics.