PRI in Person & Online 2022
PRI in Person & Online is the leading global conference on responsible investment, offering a platform for PRI signatories and other investment professionals to learn, network and collaborate.
Taking place on November 30, December 1 and 2 at the CCIB - Barcelona International Convention Centre, the hybrid conference will bring together an audience of over 2000 investors, policymakers and other sustainable finance stakeholders from around the world to share knowledge and drive the global ESG agenda.

The conference will discuss, among other things, the following topics:
achieve net zero in a changing world

investor action on human rights and social issues

policy engagement

future of ESG data

China's carbon neutrality ambitions

portfolio returns and sustainability performance

the rise of passive investment

social data challenge
See in full details PRI in Person & Online 2022 conference programme
Irene Monasterolo, Professor of Climate Finance, EDHEC-Risk Climate Impact Institute, will participate in the Climate Finance Research and Implication session, together with Laura T. Starks, George Kozmetsky Distinguished University Chair and Professor of Finance (University of Texas at Austin) and Frédéric Samama, Head of Strategic Development at Sustainable1 (S&P Global). The session will be chaired by Zacharias Sautner, Professor of Finance (Frankfurt School of Finance).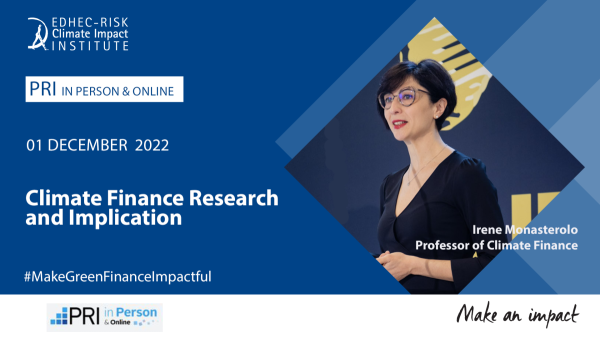 Session Description:
Research into climate finance has burgeoned in the last few years. In this session panelists will discuss the latest findings and their implications for investment professionals.
Further information on the conference can be found on the PRI conference website.
About Principles for Responsible Investment (PRI):
The PRI is the world's leading proponent of responsible investment. It works:
to understand the investment implications of environmental, social and governance (ESG) factors;

to support its international network of investor signatories in incorporating these factors into their investment and ownership decisions.
The PRI acts in the long-term interests:
of its signatories;

of the financial markets and economies in which they operate;

and ultimately of the environment and society as a whole.