Unpacking the UN IPCC Climate Report: Implications for professional investors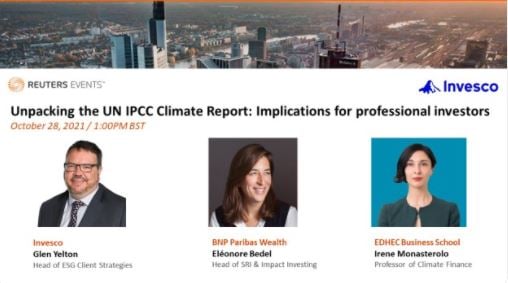 Exploring how investors are interpreting and responding to the 'code red' report
While sustainable investing has seen rapidly increasing popularity over the last couple of years, the 'code red' report released this summer has added renewed urgency to this shift. Net-zero commitments may no longer be enough as professional investors are facing calls for a more stringent approach to increase impact and asset managers must counteract accusations of greenwashing.
As the findings of the report bed in and we approach COP26, the webinar will explore how professional investors are interpreting and responding to these warnings.
On October 28, at 2:00pm CET, Irene Monasterolo, Professor of Climate Finance, EDHEC-Risk Institute, will participate in the Reuters Events and Invesco EMEA debate together with:
Moderator: Tommy Wilkes, Finance & Markets Correspondent, Reuters
Glen Yelton, Head of ESG Client Strategies, Invesco
Eléonore Bedel

, Head of SRI & Impact Investing,

BNP Paribas Wealth Management
​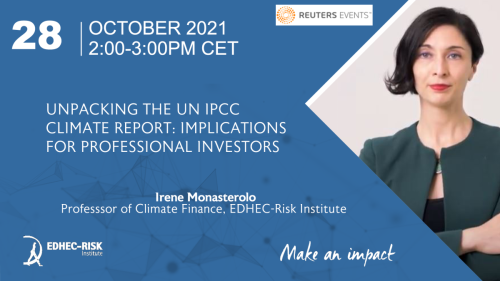 The webinar entitled: "Unpacking the UN IPCC Climate Report: Implications for professional investors" will explore the following topics:
Delving into the detail - deciphering the key takeaways and overlooked messages from amidst this behemoth document

Assessing the different scenarios and projections for climate change, what adaptation will look like and how this will impact asset allocation

Understanding the actions investors are already taking and what more can be done

Discussing how asset managers can help professional investors achieve greater impact
Irene will share insights from research and policy collaboration about on aligning finance to sustainability: what risks and opportunities it brings? what tools we already have to address it?, and why it matters for investors and supervisors?.
Further information on the conference can be found on the Reuters Events Website.